Laser Therapy
What is Laser Therapy?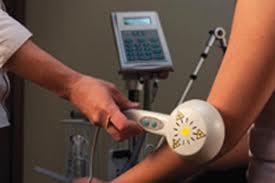 Theralase therapeutic laser treatments use cutting edge technology supplying energy to the body in the form of billions of photons of light.  This safe, effective and painless therapy uses the body's own natural healing systems to promote cell regeneration, relieve pain and inflammation.
Over 2,000 clinical studies world-wide continue to prove the success of therapeutic lasers in the stimulation of healing and the relief of pain and inflammation.  It is a proven modality that effectively stimulates deep tissue regeneration.
---
We offer fast, effective and safe Laser Therapy treatments.  
You can have a healthy, pain free lifestyle. 
Book an Appointment today!.  
Health Canada and FDA approved.
---
How can Therapeutic Laser Treatments help me?
Rapid Cell Growth – Laser light accelerates cellular reproduction and growth.
Faster Wound Healing – Laser light stimulates fibroblast development and  accelerates collagen synthesis in damaged tissue.
Increased Metabolic Activity – Higher outputs of specific enzymes, greater oxygen and food particle loads for blood cells and thus greater production of the basic food source for cells, Adenosine Tri-Phosphate (ATP).
Reduced Fibrous Tissue Formation – Laser light reduces the formation of scar tissue following tissue damage from: cuts, scratches, burns or post surgery.
Anti-Inflammatory Action – Laser light reduces swelling caused by bruising or inflammation of joints to give enhanced joint mobility.
Increased Vascular Activity – Laser light induces temporary vasodilation increasing blood flow to damaged areas.
Stimulated Nerve Function – Slow recovery of nerve function in damaged tissue can result in "dead" limbs or numb areas. Laser light speeds the process of nerve cell reconnection to bring the numb areas back to life.
Results from laser therapy are often immediate with no side effects.  Efficacy rates in excess of 90% are routinely achieved.

How long does the therapy take?
Treatment time will vary from as little as 2 minutes to 20 minutes.  The total number of treatments required varies between 5 – 25 depending on the body's natural healing rate and the severity of the condition.

Introductory Theralase Video
If you are interested, please watch the introductory video on Theralase, our cold laser therapy.

What conditions can laser therapy treat?
Low Back Pain
Neck Pain
Arthritis
Heel Pain
Tennis Elbow
Golfer's Elbow
Rotator Cuff, strains & tears
Knee Pain
Tendinitis
Strains & Sprains
Carpal Tunnel Syndrome
Hip Pain
Wound Healing
Satisfied Customers

"I use the Theralase laser treatments to keep my throwing arm healthy.  It reduces fatigue and allows me to play at my peak, game after game," says Roy Halladay #32, Pitcher, Toronto Blue Jays.

"The laser therapy helped my pulled quad before racing.  Not having the Theralase therapeutic medical laser system for treatment is like Superman forgetting his cape," says Johnny Grey, Four time Olympic medalist.
Other Links