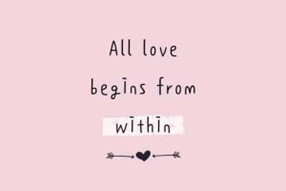 February is known as the month of love. It is typically spent showing love to those around us, our partners, children, colleagues, classmates, etc. But what about you? What if we change the narrative this year and include ourselves in who we shower with love? Self-love is about total self-acceptance, learning to love yourself and nurturing a deep appreciation for who you are. Here are a few tips to help you with that!
Keep a success journal
List your accomplishments every day and review them at the end of the week. This could be done in a notebook or the notes app on your phone. When your default self-talk is negative, this repetitive activity helps to support positive self-talk by building new neural pathways.
Do something nice for yourself regularly
Show yourself how you want to be loved and how much you appreciate who you are. This could include investing in yourself with a fancy gym membership, treating yourself to a night out, or having a self-care treatment, like a relaxing massage or a soothing bath. Whatever your fancy is, do something to love yourself regularly because you deserve it!
Forgive yourself for your mistakes
Forgive yourself just as you would with a friend. Beating yourself up for something you did in the past is not productive. Instead, show yourself compassion and forgiveness. You sit with your inner voice all day every day, try to make it something positive.
Understand that failures, mistakes, and setbacks offer valuable lessons. They provide you with an opportunity to reflect on what went wrong and what changes can be made going forward. There is no need to beat yourself up over them. Find the lesson within and use it to grow.
Valentine's Day shouldn't be the only day on the calendar that we show our deep appreciation for ourselves and others. Make loving yourself a daily habit for your continued well-being, happiness, and success!
By Kelly Verstraete, CHA