Welcome to our newest Blog Series – our "Practitioner and Staff Profiles", a series designed to let you get to know our awesome team a little bit better! Recently I connected with Dr. Dean MacDonald, owner and senior Chiropractor here at Norfolk Chiropractic, and asked him a few questions, and his answers (and some insights into what makes him tick!) follow.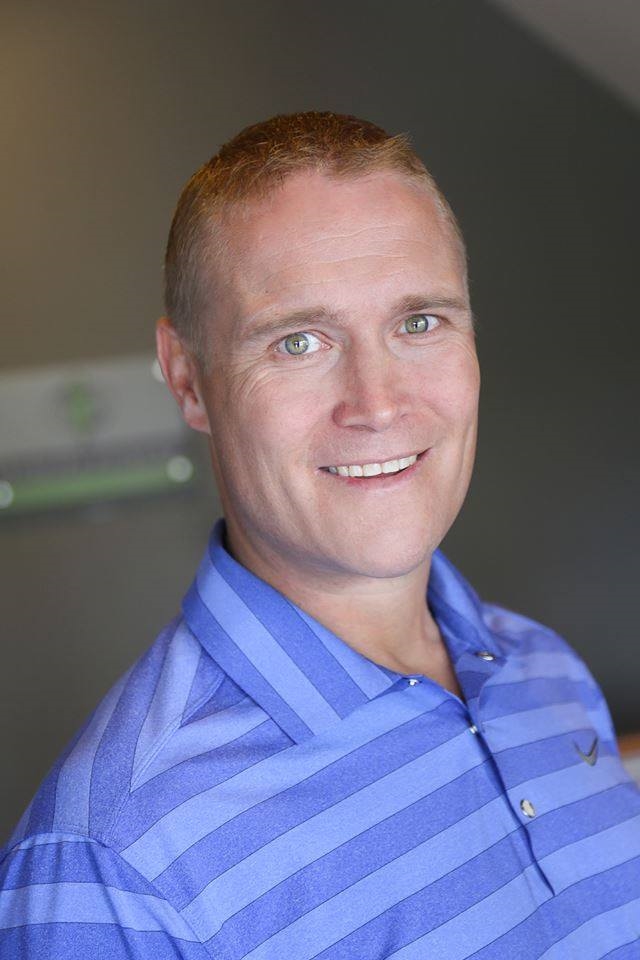 Q: Where was your home town, and what were your favorite things about it?
A: I was born and raised in Waterloo, Ontario. My favorite thing about growing up in Kitchener-Waterloo was playing competitive sports. I played rep hockey, soccer and baseball throughout my childhood. This taught me a lot of great life lessons and I made many lifelong friends through the process. Waterloo has always been a great youth sports town with a lot of parks and great sporting facilities. Waterloo was also very supportive of their local competitive sports teams. I was fortunate enough to have played Junior B hockey in Waterloo and won the Provincial Championship Sutherland Cup in 1990-91 with the Waterloo Siskins. Another great thing about growing up in Waterloo was having two great Universities in town. I went on to study and play Varsity Hockey for the University of Waterloo Warriors from 1991-95, where I achieved Academic All-Canadian status and graduated with an honours Degree in Kinesiology, which ultimately led me to my career as a Doctor of Chiropractic.
Q: What made you enter your field of practice?
A: The reason that I became interested in chiropractic was due to a personal experience I had with it when I was a teenager. In my early teen years, while playing competitive hockey, I began to have problems with my lower back and began seeing a chiropractor in Waterloo. I had great results from my treatment, but I also learned about the spine and nervous system and became very interested in how the body worked. This interest in the body led me to study Kinesiology (Human Kinetics – the study of Human movement) at the University of Waterloo, and eventually to my interest in Chiropractic as a profession. I have been under regular chiropractic care since my first experience with it as a teenager and am grateful to have chosen such a great profession to be a member of. My first chiropractor – Dr. Jeff Goldsworthy was definitely a huge influence on me and later became a mentor for me in seeking out a career in Chiropractic and I feel fortunate to now call him my colleague in practice.
Q: What is the most rewarding experience you have had in your practice?
A: I don't think I could list just one experience as the most rewarding… Sometimes it is the small day to day things that are the most important and most rewarding for me in practice. The most rewarding experiences I have in my practice are being able to help people achieve better health and "Wellness" every day. Being a chiropractor, I treat many different conditions, but the most rewarding is being able to help people become healthier through "chiropractic adjustments". Chiropractic adjustments remove spinal misalignments or "subluxations" which interfere with proper nerve function in the body. Correcting these misalignments improves nerve function, allowing people to achieve better health and function, helping them to heal.
The following link is a video of a quote from one of the founders of the chiropractic profession which best exemplifies the idea that sometimes it is the small things that can make a big difference. This famous chiropractic quote is called "The big idea".
Q: Do you have a favorite sports team? Which one?
A: Although I grew up playing hockey, and have always been a fan of the Leafs, the Toronto Blue Jays are my favorite sports team. I am not sure why I love watching the Jays so much, but I think it goes back to when they won the back to back World Series Championships in 1992 and 1993. I was in University then and fell in love with baseball and especially following the Jays and have been a hard-core fan ever since.
Q: What are your favorite pastimes away from the clinic? 
A: My favorite pastimes away from the clinic are fitness and travel. I am a very active person, so staying fit and healthy is a priority for me in my life. In the winter months, I continue to play ice hockey 3 times per week, as well as work out (lift weights) 2-3 times per week. In the summer months, I enjoy golf, biking and running. I completed my first half marathon in 2011 and my first full marathon in 2012 and have continued to occasionally participate in various trail running half marathons since then as a way to stay fit and help satisfy my travel bug.