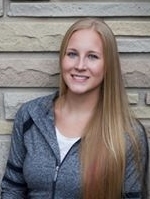 Our profile series continues with Andrea Ruiter, RMT. Here are 5 things you probably don't know about Andrea!
Q: Where was your home town, and what was your favorite thing about it?
A: Born and raised in Guelph! I can't see myself ever leaving Guelph, it's the only place I would call my home.

Q: What made you enter your field of practice?
A: If you were to ask 5 year old Andrea what she wanted to be when she grew up, her answer was always 'Massage Therapist' and to this day I have no idea how that even came to mind. That thought lingered in my head throughout my teenage years, struggling in high school to figure out what career would be best for me. I took a year after high school to work and I realized that I should just go with my gut instinct and TRY Massage Therapy, have a feel for it, learn about it. So I did, and I loved everything about it! I actually hadn't had my first massage until I started my schooling! 5 year old Andrea would be proud, because look at me know, 2 years into practice and I couldn't be happier!
Q: What is the most rewarding experience you have had in your practice?
A: I wouldn't be able to pick just one thing that I find rewarding, every day is something new, every client is in search of healing, relaxation, or education and it's extremely rewarding to end my day knowing that i've helped them in some way. 

Q: What is the most interesting place you have visited?
A: Dawson City, Yukon

Q: What is your favourite pastime away from the clinic?
A: Spending time with my furry friends, human friends, and family.