"The truth is that stress doesn't come from your boss, your kids, your spouse, traffic jams, health challenges, or other circumstances. It comes from your thoughts about your circumstances." ―Andrew Bernstein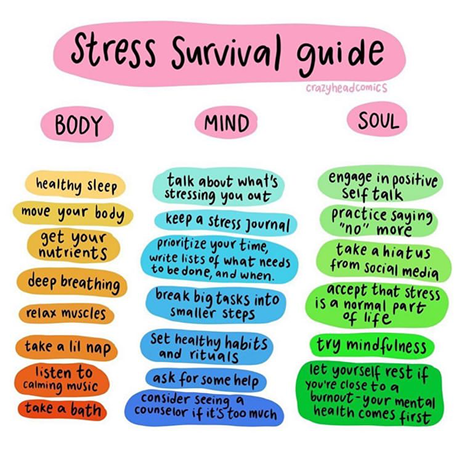 To show up as your best self and not feel stressed out about your boss, kids, traffic, etc. it would be beneficial to incorporate stress management into your daily routine. If your stress level is already high at the start of your day, anything added to your plate is just going to continue to enhance your stress. However, if you incorporate stress management into your day, when the unexpected happens, because it will happen, you will be better equipped to manage it.
Stress Management Techniques
* Practice deep breathing – it activates the parasympathetic nervous system, which sends a signal to your brain to tell the anxious part that you're safe and don't need to use the fight, flight, or freeze response.
* Move your body – in nature if possible! Exercise is a great stress reliever.
* Guided Meditation – practicing guided meditation is a healthy distraction away from life's stressors and helps you to be present at the moment.
* No screens before bed – I know, you've heard this before! But screens before bed keeps your brain stimulated and delays REM sleep.
Stress is stored within our bodies and can lead to long-term health problems if not dealt with. We can feel stress in the body show up through low back pain, stomach pain, neck/shoulder tension, fatigue, and/or numbness. This is why it is important to incorporate stress management techniques into our daily routines.
How can we help?
The staff at Norfolk Chiropractic Wellness Centre can help you manage stress through our variety of practitioners!
*Our Naturopathic Doctor, Dr. Katie Thomson Aitken, has a Tranquil Minds program that offers stress and anxiety management. As well as acupuncture to help alleviate anxiety.
*Our Chiropractors perform adjustments which can release tension held in the muscles, which relaxes the body and increases the circulation of blood flow.
*Massage Therapy can lower stress levels and feelings of anxiety. If you experience depression, or anxiety, or are just overloaded with extra stress, massage therapy can be an effective part of treatment.
*Osteopathy can help to balance the sympathetic and parasympathetic systems to relieve symptoms of prolonged stress.
If you feel that you're experiencing chronic stress and it's showing up in your body, you're not alone! Our practitioners would love to help you find relief and live a happier, healthier life. Call the clinic today to book your appointment. New patients are always welcomed. 519-827-0040
By Kelly Verstraete, CHA