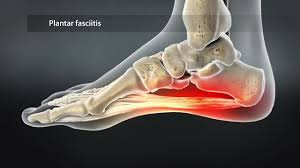 Plantar fasciitis is one of the most common causes of heel pain. It involves inflammation of a thick band of tissue that runs across the bottom of each foot and connects the heel bone to the toes (plantar fascia).
Plantar fasciitis commonly causes stabbing pain that usually occurs with your first steps in the morning. As you get up and move, the pain normally decreases, but it might return after long periods of standing or when you stand up after sitting.
Most people who have plantar fasciitis recover in several months with conservative treatment, such as icing the painful area, stretching, and modifying or avoiding activities that cause pain.
If the pain doesn't subside with these activities, orthotic inserts or shockwave therapy are treatments we can offer to help resolve the pain in your feet.
Contact the clinic today to see how we can help you get moving again :)
519-827-0040
www.norfolkwellness.com